SPANISH AND CULTURE IMMERSION COURSE FOR SCHOOL GROUPS AND GCSE COURSES
A Spanish and Culture course for school groups which are accompanied by their teachers. The Spanish and Culture course is not only directed at the teaching of Spanish in a class but also for the students to live with host families and to participate in cultural activies during thieir stay. To live the Spanish atmosphere.
Where does this Spanish course take place?
The classes are in our main language school in the city of El Puerto de Santa Maria in the province of Cadiz in Andalucia.
What Guarantee does our Spanish Language School offer?
Our languages school is accredited by the Instituto Cervante and by the University of Alcala de Madrid with the accreditation of CEELE. We are also full members of the Andalucian Association of Spanish Language Schools , AEEA, and the National Federation, FEDELE. Also approved by CSN in Sweden .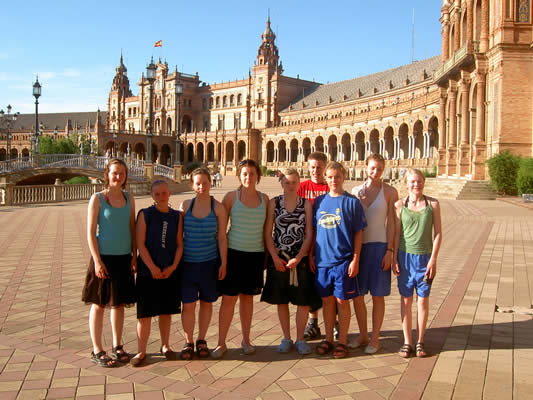 Who is this spanish course for?
All students who are studying or will be studying Spanish in school and would like to experience the Spanish language and the Spanish way of life and customes at first hand.
When and for how long do we study spanish?
Normally groups stay for 1 ? 2 weeks during the mid-term breaks at school. We are open all year except for 2 weeks during the Christmas holiday period.
For groups that wish to stay longer than 2 weeks or during the summer holidays, see our Teenage Summer Progamme and GCSE Spanish Revisoin Course for more details.
How do we get to Cadiz in Spain?
The nearest airport is Jerez de la Frontera which has cheap flights from many European cities. The second nearest airport is Sevilla. The third is Malaga . For groups arriving to any of these airports we arrange for return coach tranfers.
You may also travel by train to El Puerto de Santa Maria or by coach directly from your country of departure.
What is taught in the Spanish Lessons?
We make a program depending on the needs of each group. The Spanish teacher of these pupils taking part in this course send us the material he or she would like covered in the class period.
What cultural activies can the students take part in during their stay in Andalucia?
All groups go on one full day and one half day excursion.
The full day excursion is normally to either tio the cities of Sevilla, Cordoba , Ronda or Granada.
The half day excursion is normally to the city of Cadiz which is 19Kms across the bay. The students are normally taken by boat across the bay and we return by bus or train.
What extra activities can the student do in addition to the spanish classes?
Depending on the time of the year the group comes but most groups enjoy time on the 15Kms of beaches that are in the city of El Puerto de Santa Maria . They also participate in a trip to a local bull farm, a flamenco show and a typical Andalucian meal. Other groups have gone to a football match in Sevilla to see one of the teams play, either Sevilla or Betis. There are also activites like, paintballing, karts , obstacle races and visits to the local ?Bodegas? - sherry cellars- to see how the famous Sheries and Brandies are made. Also there is the opportunity to visit the castle in El Puerto de Santa Maria where Christopher Colon stayed during a period of about 3 years before setting sail from our port to d isc over America with in his 3 ships, La Pinta, La Niña and of course La Santa Maria named after our city.
Prices and conditions of the Spanish course
The price and conditions depend on how many students are participating in any one group. Please send us information of your possible group with dates and excursion preferences to info@atschool.net and we will give you a quotation as soon as possible.